WildFly 23 Beta1 is now available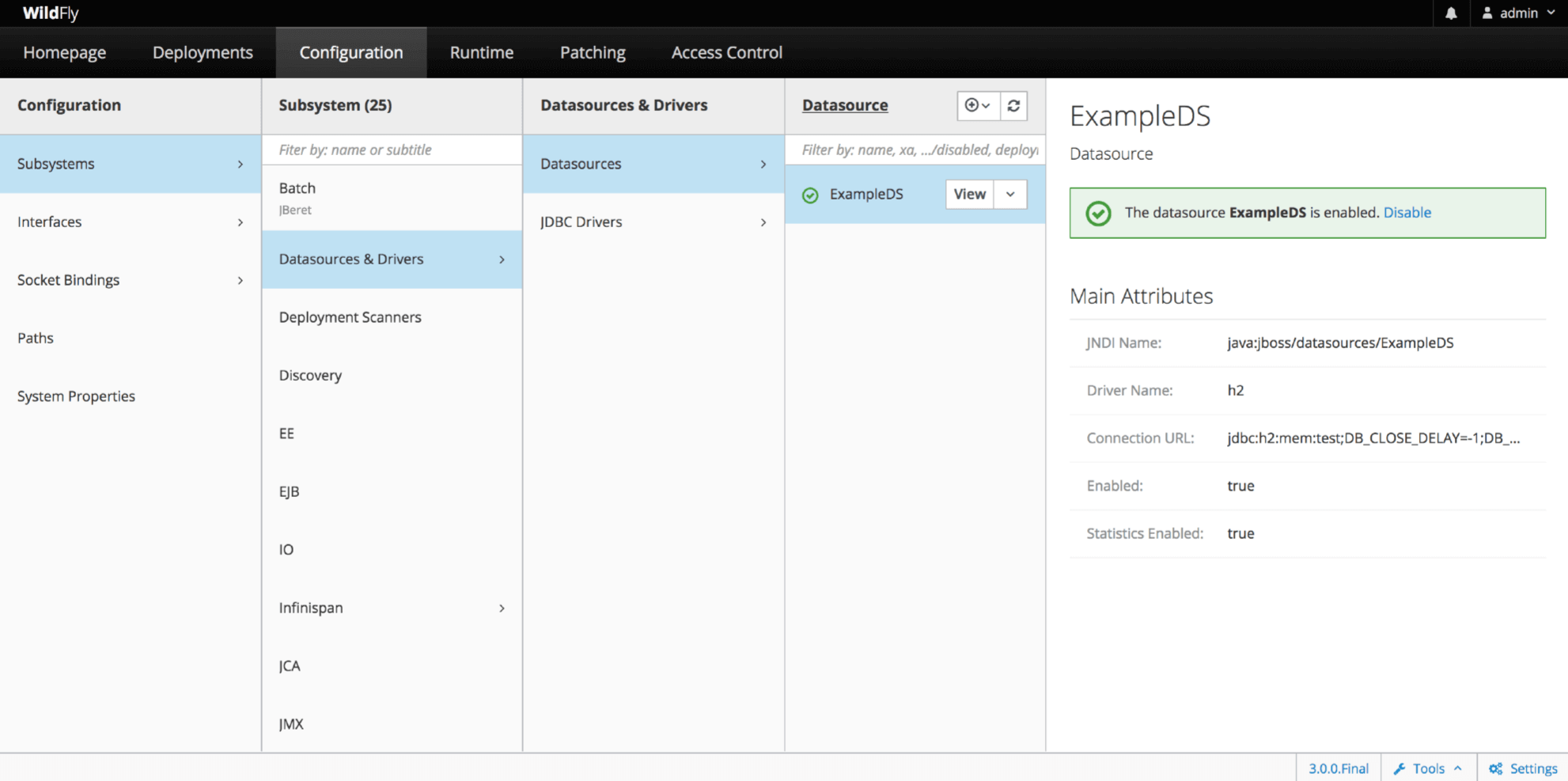 WildFly is a powerful, modular, & lightweight application server that helps you build amazing applications.
Powerful
Configuration in WildFly is centralized, simple and user-focused. The configuration file is organized by subsystems that you can easily comprehend and no internal server wiring is exposed. All management capabilities are exposed in a unified manner across many forms of access. These include a CLI, a web based administration console, a native Java API, an HTTP/JSON based REST API, and a JMX gateway. These options allow for custom automation using the tools and languages that best fit your needs.
Modular
WildFly does classloading right. It uses JBoss Modules to provide true application isolation, hiding server implementation classes from the application and only linking with JARs your application needs. Visibility rules have sensible defaults, yet can be customized. The dependency resolution algorithm means that classloading performance is not affected by the number of versions of libraries you have installed.
Lightweight
WildFly takes an aggressive approach to memory management. The base runtime services were developed to minimize heap allocation by using common cached indexed metadata over duplicate full parses, which reduces heap and object churn. The administration console is 100% stateless and purely client driven. It starts instantly and requires zero memory on the server. These optimizations combined enable WildFly to run with stock JVM settings and also on small devices while leaving more headroom for application data and supports higher scalability.
Standards Based
WildFly implements the latest in enterprise Java standards from Jakarta EE and Eclipse MicroProfile. These improve developer productivity by providing rich enterprise capabilities in easy to consume frameworks that eliminate boilerplate and reduce technical burden. This allows your team to focus on the core business needs of your application. By building your application on standards you retain the flexibility to migrate between various vendor solutions.
Latest News
I'm pleased to announce that the new WildFly and WildFly Preview 23.0.0.Beta1 releases are available for download at https://wildfly.org/downloads. The WildFly 23 development cycle has been a bit shorter than our typical three months, as we've reduced this one some to see if we can get on a rough cadence of Final releases in March/June/September/December. That works well for avoiding releases during the peak summer and year end holiday periods. And the cycle was even...
Read More >
WildFly 22.0.1.Final is now available for download. It's been about a month since the WildFly 22 release, so we've done a small bug fix update, WildFly 22.0.1. The full list of issues resolved in WildFly 22.0.1 is available here. Issues resolved in the WildFly Core update included with WildFly 22.0.1 are available here. Enjoy!
Read More >
Introduction This post is a step-by-step guide describing how you can build and deploy on OpenShift an example of a WildFly Bootable JAR application that caches the HTTP session state. We will explore how Bootable JAR uses the KUBE_PING protocol for clustering discovery mechanisms and how you can use JKube openshift-maven-plugin to deploy the application on OpenShift. Getting started The demo application is a minimalistic shopping cart that stores items in the HTTP session. The...
Read More >
Using odo it becomes very easy to develop on OpenShift with the bootable jar feature.
Read More >
An overview of the new security features that we will be working on.
Read More >
Bootable JAR Maven plugin 3 has been released. This release brings a new Maven plugin goal to speed-up development.
Read More >
With WildFly 22, it is now possible to configure a principal transformer in the Elytron subsystem to convert a principal to upper or lower case. This blog post goes through a complete example on how to use this new feature.
Read More >
How to properly stop a running batch job with API and WildFly tools, and how to stop an individual step.
Read More >